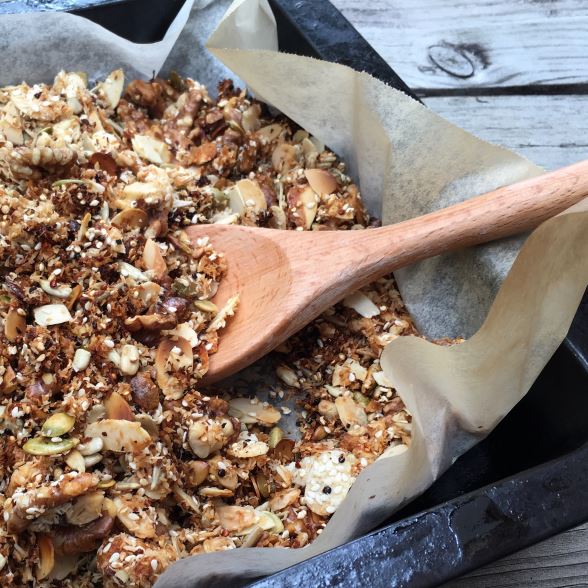 ➕b.gluten free granola… shhhh secret b. recipe and it's part of an everyday healthy life food plan. This fast and easy bake-up can be done anytime.
Eat it everyday with fresh berries and coconut yogurt. Make it once a week and store it in an airtight jar.
Bake it this evening, or when the oven is already on. Only takes 20 minutes and that fresh granola smell will waft through the house… so it could be dessert too!
---
b.gluten free granola recipe
Ingredients
(all 1/2 cup measurements)
Sesame seeds
Quinoa
Pumpkin seeds
Sunflower seeds
Almond flakes
Walnuts (crush them up a little)
Coconut flakes and Shredded coconut
Rice malt syrup (pour over evenly)
Method
Place half a cup of all these ingredients into a lined tray
Flatten with your hand or mix up a little
Pour rice malt syrup over the top evenly.
Bake in oven 200 degrees celcius for 20mins
Allow time to cool
Place in jar
Add to your favourite other fresh ingredients.
Enjoy b. x
---
Use this granola various ways, including recipes from smoothie bowls & smoothie toppers.
Add extra rice malt syrup to make slices of granola. Totally delicious sprinkled on bananas dipped in chocolate too!
Click here for more of b's recipes
Health and Happiness always,
b.
x