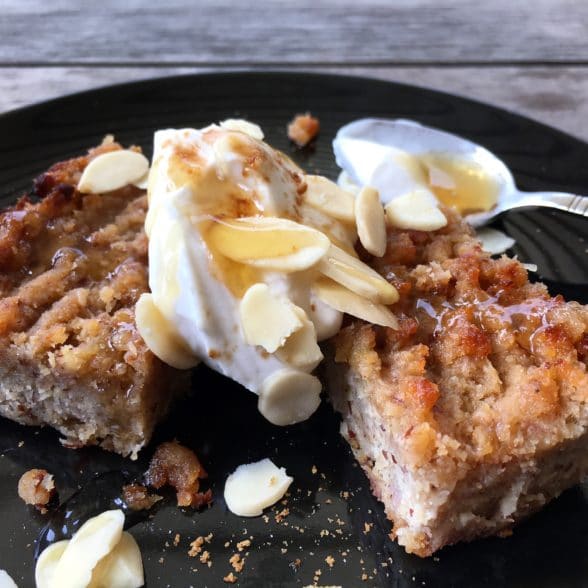 Have this clean, dairy-free & gluten-free dessert or snack to your food lifestyle.
This easy-to-make slice is great for kids lunch boxes and a healthy alternative to banana bread.
Divide into small pieces to ensure your portions are optimal for all family members!
This soft delicious melt in your mouth slice is great for snacks, occasions or anytime.
Ingredients
4 bananas
1 cup Almond meal
1/2 cup Coconut flour
1/2 cup Fine Coconut
2 eggs
2 tablespoons of coconut oil
1 tablespoons coconut sugar
Agave nectar syrup for topping ( honey could replace)
Method
1. Mash bananas and add egg blend with a fork.
2. Mix in coconut sugar and coconut oil and set aside.
3. Add coconut, flour and almond meal to wet ingredients and mix with a fork.
4. Set oven at 180 degrees celsius. Line a small flat loaf baking tray with baking paper
5. Press mixture into tray and pour evenly over the uncooked mixture agave nectar syrup.
6.Place in oven for 30 minutes until brown.
7. Eat warm with fresh coconut yogurt and slivered almonds.
8. Enjoy!
---
If you enjoyed this recipe, be sure to check out these tasty banana recipes too: