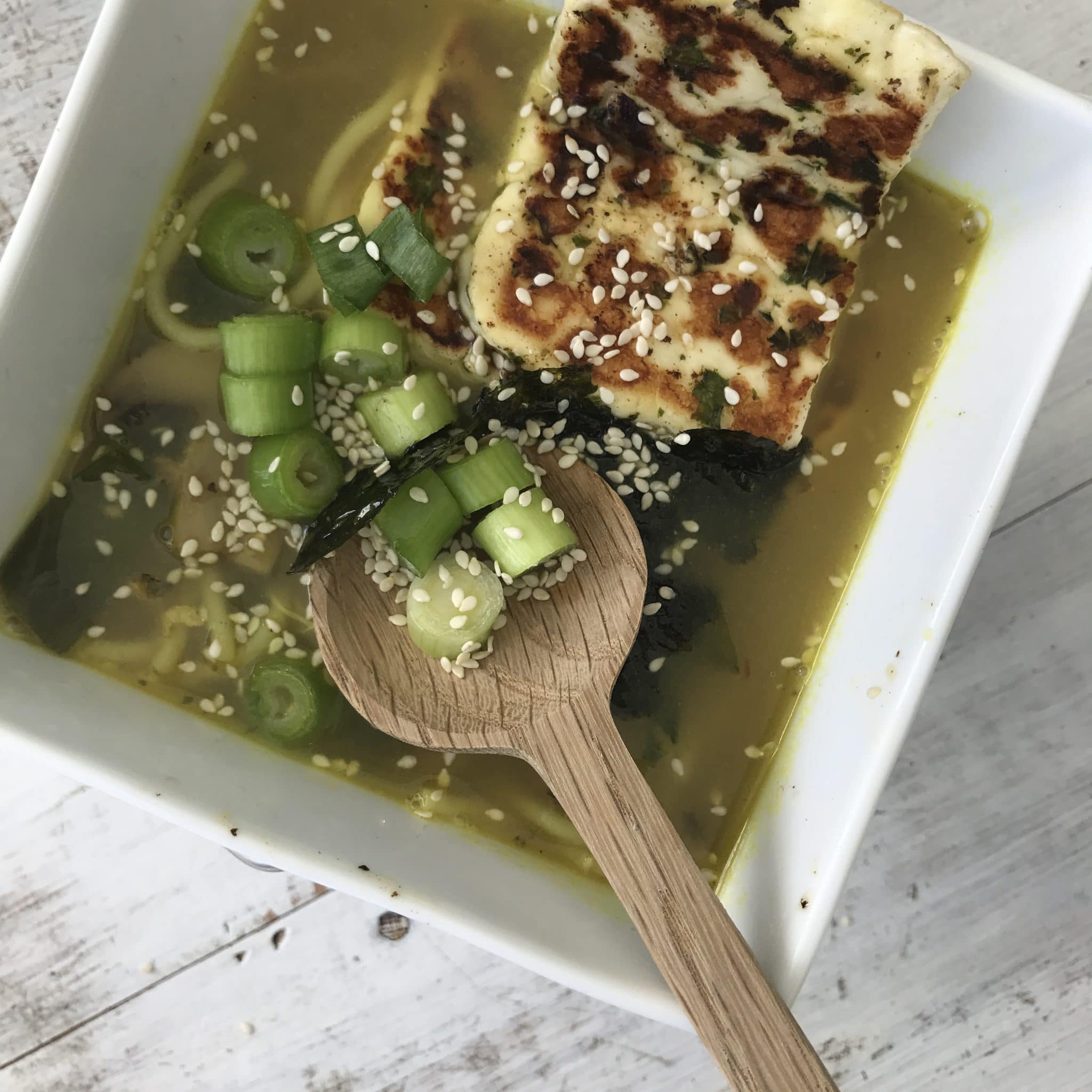 The perfect weekend warmer or Sunday evening TV meal.  It only takes 20 minutes to satisfy all your taste buds. Make it for your little family too.  This nourishing soup with entice all your taste buds and will be added to your weekly menu.
---
b. Miso Halloumi Soup
Ingredients
Rice Noodle (recooked packet)
250gram of Chicken Thigh (diced)
2 tablespoons Nutra Organics vegetable broth
2 tablespoons Nutra Organics chicken broth
4 cups of water
1 bunch of Bok choy (sliced)
1 bunch of Shallots (sliced finely)
10 Mushrooms (diced)
3 tablespoons Garlic rice bran Oil
1 packet of Herbed Halloumi (use a required)
1 tablespoon Sesame Seeds
Method
Heat large pot on the stove top – Add garlic oil and chicken cook until browned.
Add greens ( shallots and Bok Choy) and mushrooms – cook until warm and wilted as the flavours infuse.
Add 3 large cups of water until all vegetable and chicken is submerged.
Add the Nutri-Organics vegetable broth and Nutri-Organics Chicken broth slowly mixing and dissolving as the soup cooks.
Add Noodles and Place lid on soup allow 10 minutes cooking time at medium heat.
While soup is simmering – fry the halloumi until golden brown. Place aside as soup cooks.
When noodles have floated to the top of soup your b.Miso is ready to serve.
Serve with halloumi and sesame seeds on top with some fresh shallots.
Enjoy.
Health and Happiness always,
b.
x
Want to dip in bread? Try the b.seeded bread >> recipe below
https://belindanorton.com/b-seeded-bread/