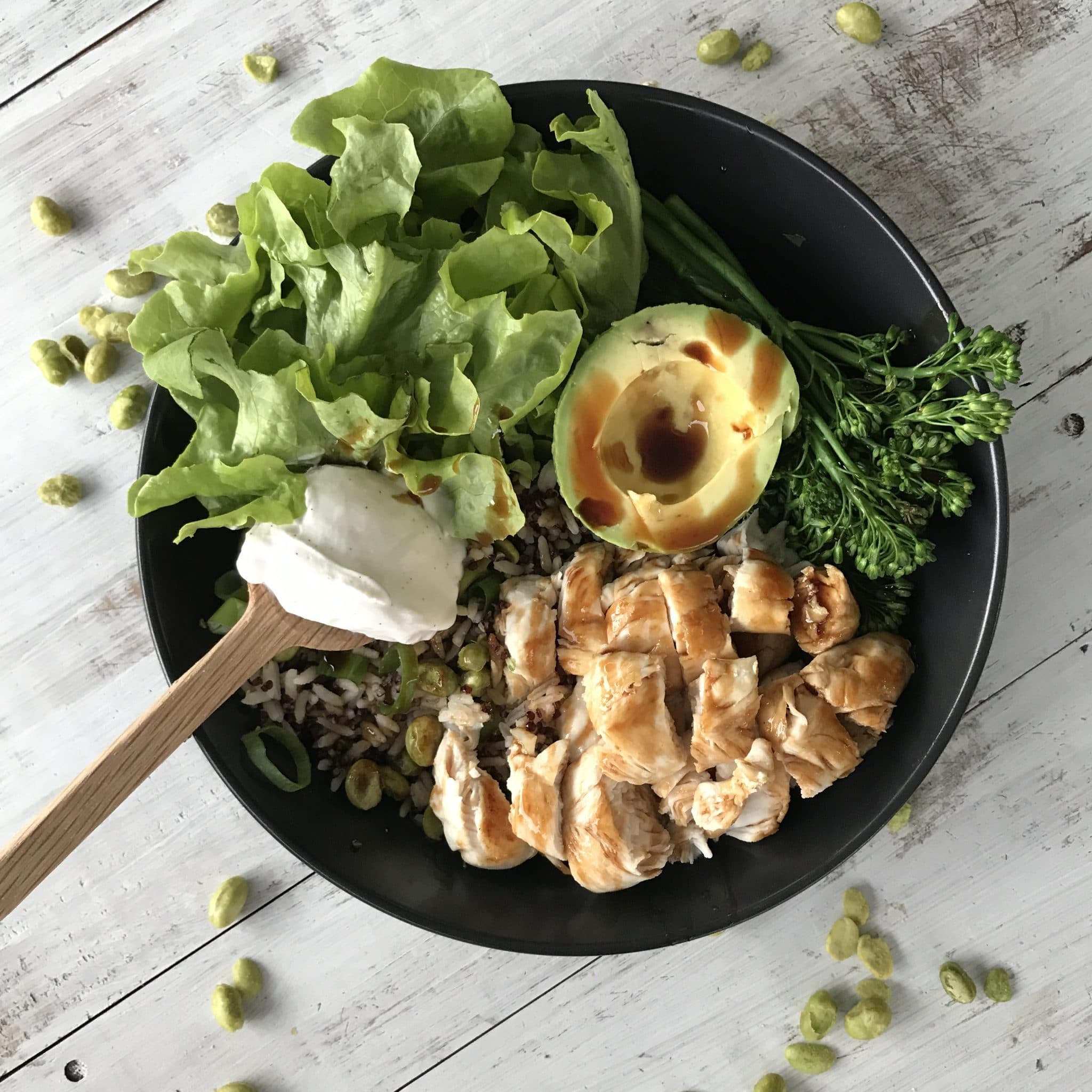 b. Chicken Teriyaki this meal is my kids absolute favourite and it will certainly become your families too!  It's easy clean eating with those delicious japanese flavours to boost as well as providing you with the ultimate in energy and nutrition for all.  The flavour of the coconut yogurt with the crunchy greens and see warm chicken is moreish with every bite! Make this one tonight!
---
b. Chicken Teriyaki
Ingredients
250g of Fresh chicken thighs – cut into strips
3 tablespoons Rice bran oil
Salt/ pepper
Chicken teriyaki sauce – (I prefer Japanese version from ASIAN grocery store)
½ Brown rice / Quinoa (prepared in seal pack)
½ cup frozen Peas (cooked)
1 Shallots chopped finely
Avocado (half)
Lettuce
1 tablespoon Coconut Yogurt
Method
Heat pan with oil and place strips of chicken – cooking until brown turning as they cook. Add salt and pepper as it is browning.
Remove from pan and allow to cool on paper towel.
Cook Rice or Quinoa – use a rice that is pre- packaged for microwave use. Follow directions and place in bowl. When cooled add cooked peas and shallots – gently stir together- serve on plate.
Add lettuce to plate with the rice with peas and shallots. Place chicken on top and gently pour required amount of teriyaki sauce.
Add dollop of yogurt and ½ avocado.
Eat up and become addicted.
This amount feeds ONE person.
Health and Happiness always,
b.x
More easy family meals > https://belindanorton.com/b-easy-pizza-pie/