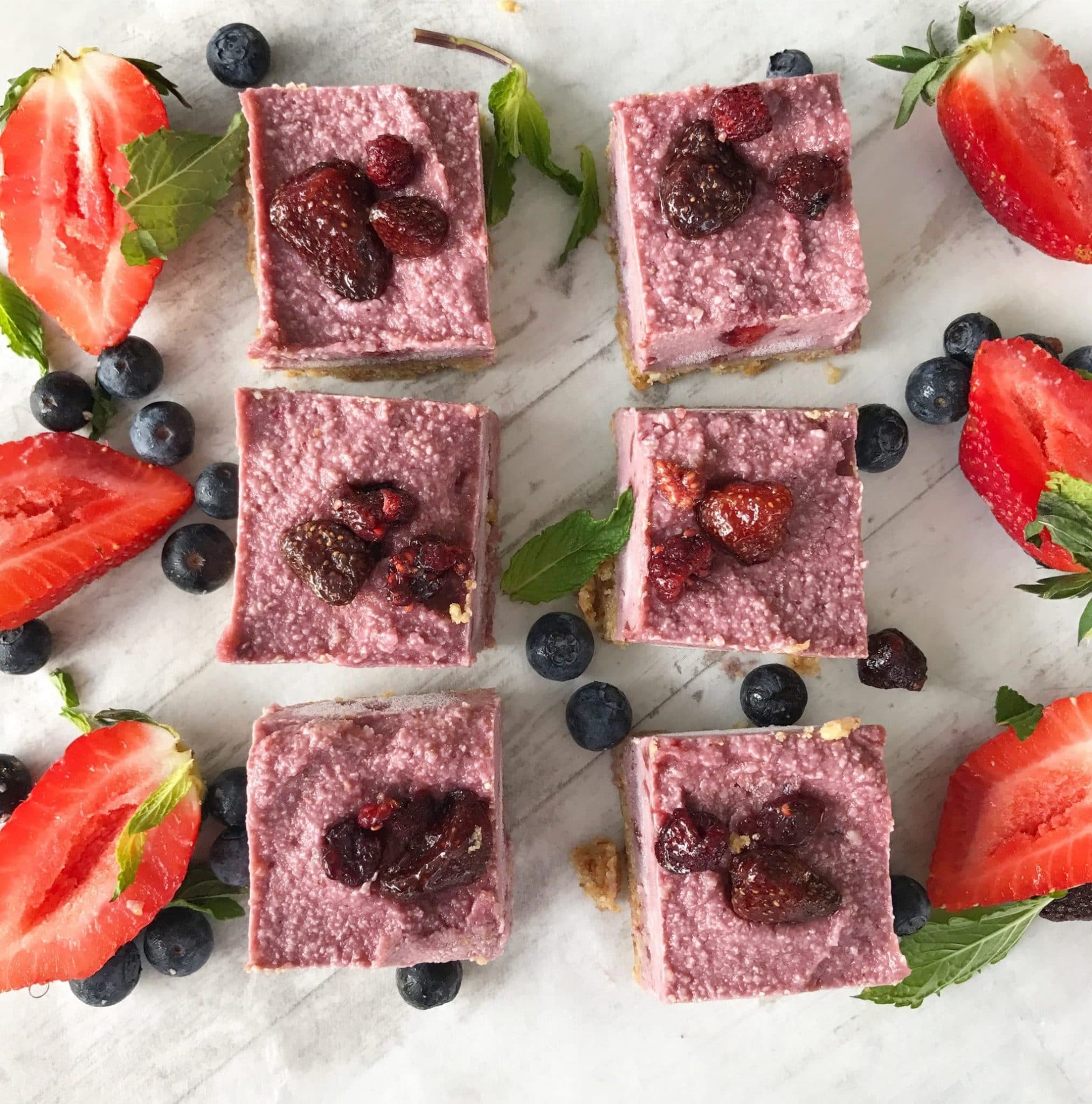 I love cheesecake but unfortunately it does not love me.  To feed our body craves and loves is important so the b. raw strawberry cheesecake was born.  It is fast and easy with a healthy skin, gut and hair booster added. (It makes you look pretty too) It is a must make and share for all the ladies and loves in your life!
---
b. raw strawberry cheesecake
Ingredients
Base:
6 x Turkish Figs
1 cup of Walnuts
½ cup of sliced Almond
1 large tablespoon of coconut Oil
Filling:
2 cups of Unsalted Cashew soaked in (H2COCO Coconut Water)
1 ½ cup of H2Coco Coconut Water
1 cup Dried Strawberries
½ cup Dried Raspberry
1 cup Frozen Strawberries
1 scoop Nutra-Organics Collagen Beauty Skin Hair Gut Health
1 tablespoon of Rice Bran Syrup
Method
Soak cashews in H2Coco coconut water overnight the longer they soak the softer and smoother the cheesecake filling.
Blend base: figs, walnuts, almond & coconut oil.
Press the base into lined slice tray.
Place the base tray in fridge until filling is ready.
Place in food processor the soaked soft cashews with H2coco coconut water and blend until smooth and creamy.
Add the fruits and Nutra-Organic Booster and Rice Bran Syrup.
Blend until smooth.
Pour over base and smooth out.
Place in freezer for 1 hour.
Slice and serve with fresh strawberries and blueberries and mint.
Health and Happiness always,
b.
x
Recipes that you might love too:
https://belindanorton.com/b-strawberry-cream-balls/