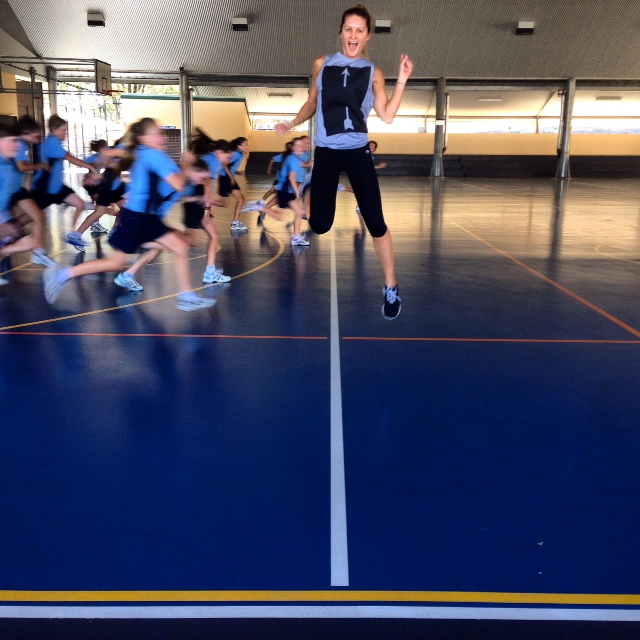 The UPSIDE – blog interview
WHAT DO I DO?
I am a primary school health and physical education teacher and an avid fitness & health lover. I enjoy my job so much especially showing young people the best possibilities outcomes for their health and bodies.
HOW DID I GET MYSELF INTO THE ACTIVE WORLD?
I personally have been involved in the active world for a long time being a competitive triathlete however after children could not maintain that level due to time management and health issues. I set out to find a way I could get my optimal health and fitness back with excellent alignment which has become my true happiness.
POSITIVE BODY IMAGE AND TEACHING IT TO YOUNG PEOPLE
These young people currently have many body image issues and I am doing my upmost to show them how to maintain optimal health and fitness for life. Whether it be 'a smoothie making' competition in my classroom, fitness challenges, talking about the pit falls of health choices or teaching them the value of morning exercise and crunching on fresh vegetables afterwards.  I teach fitness for life and creating a balanced choice of fitness.  I even show them the value in stillness, mediating and stretching in class after lunch and how to remain strong and happy within your self and deal with negatively in the world therefore overcoming bullying factors.  These are all real circumstances affecting people today that they need to be prepared for now and in later life.  Teaching children these things has helped them in more ways then health and fitness, they are happier, stronger, smarter, more energetic and able to make more well adjusted choices in speaking with others.
HAVE YOU HAD TO WORK HARD TO ACHIEVE THESE ACTIVE RESULTS?
To create my best body I had to work very hard initially, however I just maintain now through balance exercise regime, excellent fresh food options and simplified yoga poses and happy positive mind.  I am certainly not naturally lean I just did not understand my body like I do now.  My body represents my love of health and fitness currently my body is of optimal health.  This is due to finding the right balance for me. I want to share with as many people as possible that they can do this too. You see I don't have a 'goal body', I have an optimal health happiness goal – I believe this is key to why I look like this and no other reason.
ADVICE TO GIVE TO OTHERS ABOUT GETTING FIT AND HEALTHY WHO THINK IT IS TOO HARD
My dream and goal in life is to help and inspire as many young people and all people to find their best possible health and fitness options.  By showing them through my social media how to be ok with your self – how to eat delicious nutritious food and create a simple lifestyle plan. Even sharing fitness choices that suit their time schedule while remaining balance and aligned. I believe in aligned bodies create happy bodies. We don't need to do extreme things to be healthy. Our bodies are maintained easily with the correct information. Our world is filled with 'this fad' and 'that fast way to do' and many are missing the true point.  I am so truly passionate about sending positivity out and giving back to others creates a better world and this is way I can inspire.
LIVING THE UPSIDE MEANS TO ME
The UPSIDE means to me putting positivity into everything you do and sharing the love of the UPSiDE of life and not finding the down.
The upside to my life is being able to share my days with young people who thrive on vibrancy and living life to the fullest.  I believe with the right information about their bodies they will be unstoppable, their lives will be more productive therefore making Australia's future better for us all.
'The upside' represents me as a person and the feeling it helps me to portray is – Look up on life —-not down on things because sometimes things will go the wrong way, so how can you be strong enough to turn it around. Wearing 'the upside' makes me feel strong, authentic, positive, chic and it makes me feel like b.
It's all ok to be me!