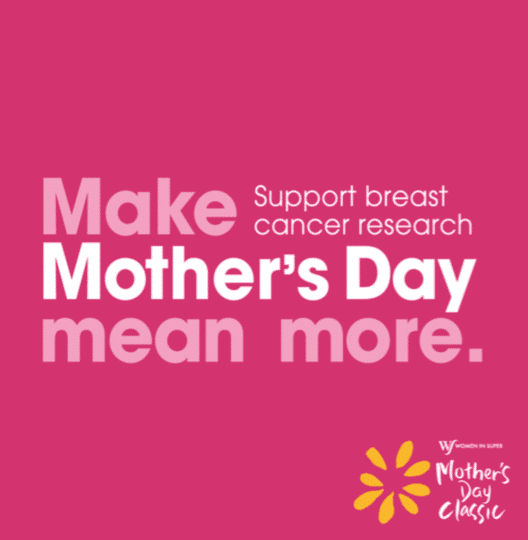 I am so excited to announce that Fit Mama is going to train YOU for the Mother's Day Classic in 2019!  All of the Mother's Day Classic competitors have access to latest Fit Mama program specifically written to help you get to the finish line in your best body and form ever.
This year, make Mother's Day mean more. We are encouraging Australian's to make Mother's Day mean more than just breakfast in bed – it's about supporting those who have been touched by breast cancer because it really does affect us all. Whether you're running, walking, volunteering, fundraising or donating, you can make this Mother's Day extra special by supporting and celebrating all women.
On Sunday 12 May at event sites all over Australia the community will again unite to make Mother's day mean more. Over the past 22 years, we have raised over $35 million for life-saving breast cancer research projects with the aim of raising over $2.1 million this year. With 53 women diagnosed every day, there's still a long way to go and we need all the help we can get.
The National Breast Cancer Foundation (NBCF) is the only national body that funds life-changing breast cancer research with money raised entirely by the Australian public. NBCF research has helped develop better therapies, greater understanding of possible ways to stop the spread of breast cancer to other areas, and improved quality of life for patients and their families. Since its establishment in 1994, NBCF has awarded more than $140 million to around 470 Australian-based research projects to improve the health and well-being of those affected by breast cancer. Through Mother's Day Classic fundraising, the National Breast Cancer Foundation is able to fund research that aims to stop deaths from breast cancer by improving the detection, treatment and outcomes for those affected by the disease.
This Mother's Day join us the Fit Mama crew to make 2019 Mother's Day Mean more!
Register below! 
http://www.mothersdayclassic.com.au
Link in below: For the special Fit Mama Program 
https://www.mothersdayclassic.com.au/events/fitness/
Health and Happiness,
b.x