The Budget Environmental Beach House Renovation
(a continuation of the detoxify; simplify and minimize our family environmental footprint)
When I set out to find a new home; location is always the most important factor.  You can change any house but the location is where you live not the house itself.  As with any purchase some sacrifices need to be made and the availability of options are factors also.  Factors that needed to be prioritized were location, floor plan; brick and tile, 3 bedroom and the two teenagers the accessibility to freedom is important and this includes proximity to their friends and active lifestyle.
Finding the character property was the tricky but the fall in love factor is easy with me I fall in love with tiny aspects of properties. For example: one feature wall of weathered bresser brick or the fact that it feels good when I see it.  The feel good factor is the real vibe that must be adhered too.  When walking into a property a certain sense of love or uncomfortable will arise and this little house was a challenge but I knew she had it in her to step up.
Another important factor with any renovation is the budget and sticking to it and as a one-income family this is key. I knew I must not go over budget and the spread of money was important, as it was a project I had no free trade hands to help.
I found it – 500m from my favourite Gold Coast beach and right in the middle of the cool zones of Miami and Burleigh.   Every café, restaurant, my gym and other active zone is with 1 km walking distance. Plus work only a further 8km from home. It is 3 bedroom; two bathroom with lounge and small functional areas. It is on a 405 square block with low maintained space.  Perfect!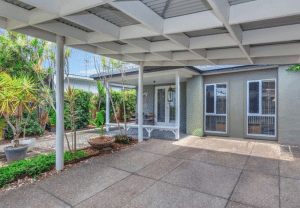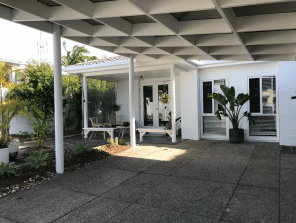 ---
THE BREAK DOWN:
Exterior:It was khaki and blue and render weathered. It needed a fresh white all over every door, wall, fence, except the floor of course.  I used Taubman's with the Dulux colour WHITE ON WHITE for the entire exterior. The outside had a few rotten sections esepcaily the beautiful backdoors.  But my legend carpenter saved them with a bit of hard work, craftsmanship and labour of love. NO throwing anything away here. We replaced capping, facers and guttering with colourbond SEAMIST.  Everything this close to the water and coast line requires marine grade fasteners too. It's important to spend on these parts.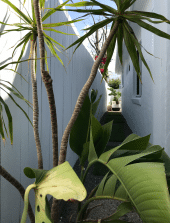 Flooring:
It was originally white tiles throughout and in previous homes I have either done real timber or concrete.  This one was getting a vinyl floor over the top of tiles.  It's budget conscious plus I am not cutting down trees thinking of our environment.  It is also hard wearing against sandy feet from the beach.  You can even skateboard on it – she tried!
The sunken lounge was a pre-existing garage was carpeted in a thick texture wool loop pile.  Zade wanted carpet so he got the same loop pile but in a dark grey – boy zone colour.
Bathroom and Ensuite:
The best saving on this house was using the some of the existing wall tile in both bathrooms.  This ensured the gyprock or waterproofing did not have to get redone saving a lot of money. I also kept the existing tap positions in showers and replaced some tap ware making it fresh yet inexpensive. The key is don't remove it if it is safe and sound working. I tiled over the existing floor tile and found a contrasting tile to make the large off white tiles look white.  By not taking up the floor tiles it saved an enormous mess but also ensured the new floor level with the vinyl matched up in height.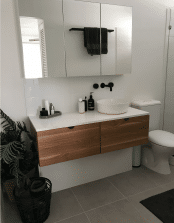 Interior and Styling:
The interior was repainted WHISPER WHITE all doors and every part of inside including the bathroom walls and inside the cupboards. The styling is timbers and white's with features of palm trees.  Some sections are boarded with black to frame areas and the tone is a calm and modern beach house style with colour burst only in the book shelves. I used a grey lounge and tones of tan leather and hardwood buffet and furniture.  The electrical was redone for safety and to use energy efficient lighting as well as using feature and mood lighting to create a relaxing feel but can switch to studio lighting at the flick of a switch.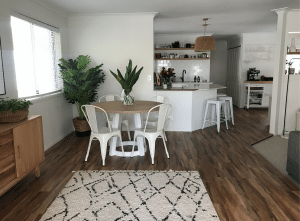 Kitchen and office combo:
I work in my kitchen and I need my office close by as it has my research materials, editing and other multimedia aspects that I live my life around.  Therefore this house was made for the new BLIVEWEAR office.  This house has essentially two dining areas so it was made for a functional work/office zone and us.
The kitchen had a reconfigure with wall opening and removal of cupboards. A new splash back and custom made timber open shelving for the office, kitchen, bathroom and Meka's boho bedroom.
The kitchen cupboards were saved, as they were white and so too the bench top as it was already stone.  Kitchen cupboard handles replaced to matt black, plus black fridge and range hood to keep with the framing.  As well as, a new security back door with dog door for Rasta. The best part of the kitchen renovation was the TANSEL pantry makeover (stay tuned for that blog coming up next week) READ TANSEL BLOG CLICK ON LINK ABOVE
My top 7 Reno tips:
Location of home
Floor plan adaptability
Reuse and recycle as many items as possible.
Choose colour palette for ease – white on white as it works with every furniture piece.
Storage is the most valuable expense and use wall space wisely
Cull the crap in the house. No double ups!
Budget with all trades and ask them for the updates of receipts for purchases to really know where your money is going.
For more images and insights into my Beach Renovations stay tuned for the NEW blog on my 'FIT MAMA PANTY PORN makeover'.
b.truth: I used my dream team of exceptional tradies and I could not have completed these last five renovations without them.   I style and project manage the entire build and I do the garden however I am not handy just exceptionally handy with a phone and creative with design.  A huge thank you goes to Mark Maycock, Jeff (builders and craftsmen), Derek – Euan (painters), David (tiler), Mark and Dave (plumbers), Chris and the Atlantis boys for the backyard budget overhaul (when the money ran out); and to Tim – my brother (electrical) & also my prime removals and reconnecter and to my unbelievable parents for helping me move all this stuff once again. Massive thank you to my kids for baring with my big dreams and coming on our adventures back and forth. We are truly at home!
(video in highlight on INSTAGRAM)
Health and Happiness,
b.x