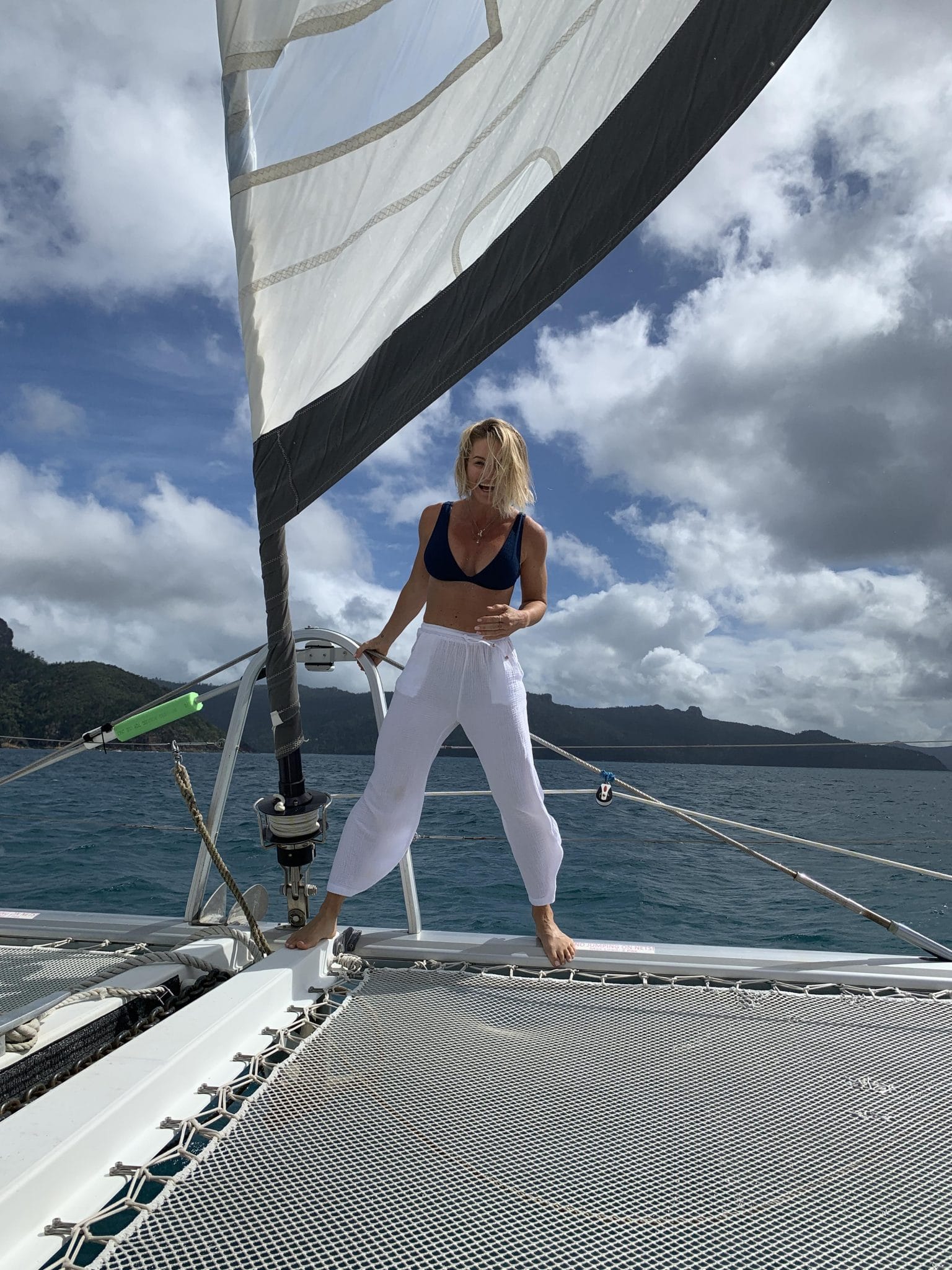 'Our family sailed the Whitsunday Islands and this is the truth of what is required aboard a bareboat charter'
This trip was truly the best ever holiday for our family! It was a jammed packed 5 days of ultimate adventure, surrounded by incredible blue clear warm water, fishing with ease and the whitest sands. I was pinching myself as I made the only footsteps upon Whitehaven beach; running it alone daily in the warmth of the sunrise. We sort climbing to lookouts on tiny islands.  We found empty bays to swim in, caught squid on the boat, we hit the outer reef for some coral trout hunting and we shucked wild oysters from the rock face.   We sipped champagne on the decks and sunbaked on the trampolines.  We paddled boards around the most phenomenal landscapes and we kayaked to hidden inlets.  We laughed at night on the front decks, we ate breakfast below the windy sails. We sang loudly to tunes and we smiled all day. It truly was the most perfect holiday for us all.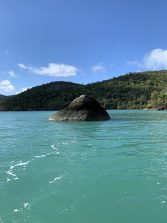 The planning began back in December as we sourced various bareboat charter companies. Meaning we would skipper the boat ourselves around the dream landscape of the Whitsunday Islands in North Queensland -Australia. 
We decided upon Whitsundays Escapes as their location – Airlie Beach is a 1200km direct drive up from the Gold Coast and out to our exploration zone. (You can fly into Proserpine) The next big decision was which boat to choose. As I'd travelled on multihull/sailing catamaran and power cats before and I really wanted one for our family trip.  The main reasons being the space aboard, the stability of the boat and the speed/pace at which was possible. The idea was to slow down and immerse in all that is this 'natural wonder of the world' and what it had to offer. We hired the Lagoon 45 the newer version which sleeps 10 people. (I will share more details on the boat further into blog.)
My kids have grown up around the water, on boats and understanding that fishing life experience so they very much understood and what to expect on the this boat holiday. However the reminder of the effort and adventure was expressed as they helped limit their packing skill for our trip of a lifetime. 
The joy of bareboat sailing begins with the freedom of choosing where you want to go however this is very weather and wind dependant.  The best time of year to see the Whitsunday's is from May – September. You can navigate anywhere and the team at Whitsunday Escape can help you if you are unsure.
Bareboating is (skipper yourself) type of sailing. It is the kind of holiday that gets addictive but it is very much a adventure trip not for the luxury/spa traveller. There are no hair straighteners, coffee machines or smoothie makers and definitely leave the fake eyelashes at home as the salt water or wind will blow them off! Just like camping; boating also must have limitations. The hot water is in short supply (meaning only one – one minute shower daily) and so to with the preparation and conservation of all food, water and ice is imperative for the 5 days travel. The boat has an onboard water maker and also solar panel however this is only if the sun is out otherwise a generator is used to power up. Bareboats come equipped with almost everything, including the kitchen sink and taps with water filter.  Included are bed linen, cooking equipment and utensils, TV/DVD player, navigational aids like the book 100 Magic Miles, they also come equipped with spray jackets and stinger suits can be also set aboard. All you really need to do is provide the food and drinks.
The key to a great trip is planning the food menu for the entire few days.  As it obvious there are no shops out there (well that is unless you decide to dock into the marina at one of the larger island).  We chose not to – as we wanted the adventure and solitude as opposed to a tourist destination like the one we already live in.
We set about creating a menu of Italian night, Mexican night, Indian nights, Seafood night and BBQ night.  This helped in planning the frozen foods. We organised breakfast and I of course meal prepped some Fit Mama muesli and protein balls and slice.  We pilled up the snack foods for the kids because those teens get hungry in the sun, sea and sand. Every afternoon we created cocktail hour which were cheeseboards and raw veggie dips and we enjoyed this at sunset. A must take aboard is water (varying kinds including sparkling, coconut and still).  It is sipped upon all day for every person and aboard a boat you get extra thirsty!
Bareboat sailing is a team task and it can be a wonderful way to come together as a family or tear friends apart.  The key is to give each person a designated role.  As both Archie (our skipper/marine mechanic) and I had done many boating expeditions, we understood the working of the boat and sails.  However the simple tasks of ropes, skippering (driving) the boat in varying weather, anchoring and navigation is a task tackled with full commitment.  If you want to actually set the sails be ready to have all hands on deck and a light hearted fun crew. The setting of the sails even only the head sail can be a tricky task for the beginner and will need at least three confident crew to do so.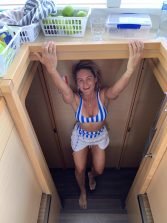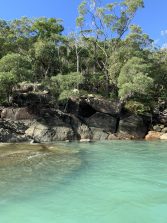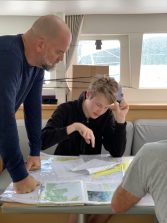 The catamaran we chose was the Lagoon 45 as it had 4 full double bed cabins with shower and toilet. Plus plenty of storage and places to relax.  My favourite space was the covered helm to watch sunrise and sunset.  It had storage for dive equipment, fishing/beach gear and lots for drinks with 2 bar fridges, 1 freezer and 2 esky for drinks. I recommend taking an esky full of block ice to use for the 5 days.  It was a very beautiful luxurious boat with fantastic finishers and a joy to sleep in. It was also easy to drive and manoeuvre compared to many other boats I had crewed before.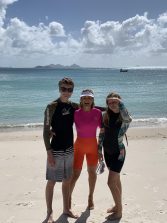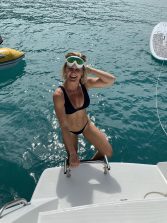 I must admit I wouldn't recommend this style of holiday for young families (newborn – 6.years of age). This type of trip is very weather dependant and if you do happen to hit rough sea (holding with both hands in imperative) and sea sickness will play a large part of your trip. Definalty take some 'Travel Calm' if you are not used to boats. We did have a few hours on two days where it was rainy/stormy and windy and it was rough as we travelled to and from different bays.  It can be dangerous if people are not aware or do not understand the dangers. (Do not lay on trampolines in windy or rough condition  – as 'person overboard' can very easily occur – stay in a secure spot with horizon view to ensure safety and a calm tummy)
The most important part though for many is the costing and budgeting for this style of trip.  The hire cost of the boat we chose was $8900. Add on top approx. $1000 for food, drinks and ice. Then the cost of insurances, hire equipment, fishing gear and the top up fuel for the boat upon return into harbour.  The Lagoon catamarans are very fuel efficient only costing $160 upon return (which is something to consider as some of the powerboats can cost up to $1000 for refuel).  Then add again the driving travel cost up to Airlie Beach and fuel, snacks, accommodation for one night or you may choose flights.  Our total cost of the holiday came up to just bumping over $10000. It was truly worth every single cent of effort to save!
I highly recommend this type of holiday or trip to all and especially with a friend group. It is the most addictive and fantastic experience of your life.  It is memorable with many breathtaking, pinch yourself moments. It will fill you heart with a total nature top up to the soul.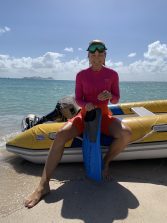 I personally have chosen to come back to bareboating year after year and I would hire the same boat again as we would love to visit more of the 74 islands of the Whitsundays. I truly believe it is a 'bucket list' type of trip that must be seen to be believed and we here in Australia are absolutely blessed! I beg of you – go see our stunning country!
Health and Happiness,
b.x