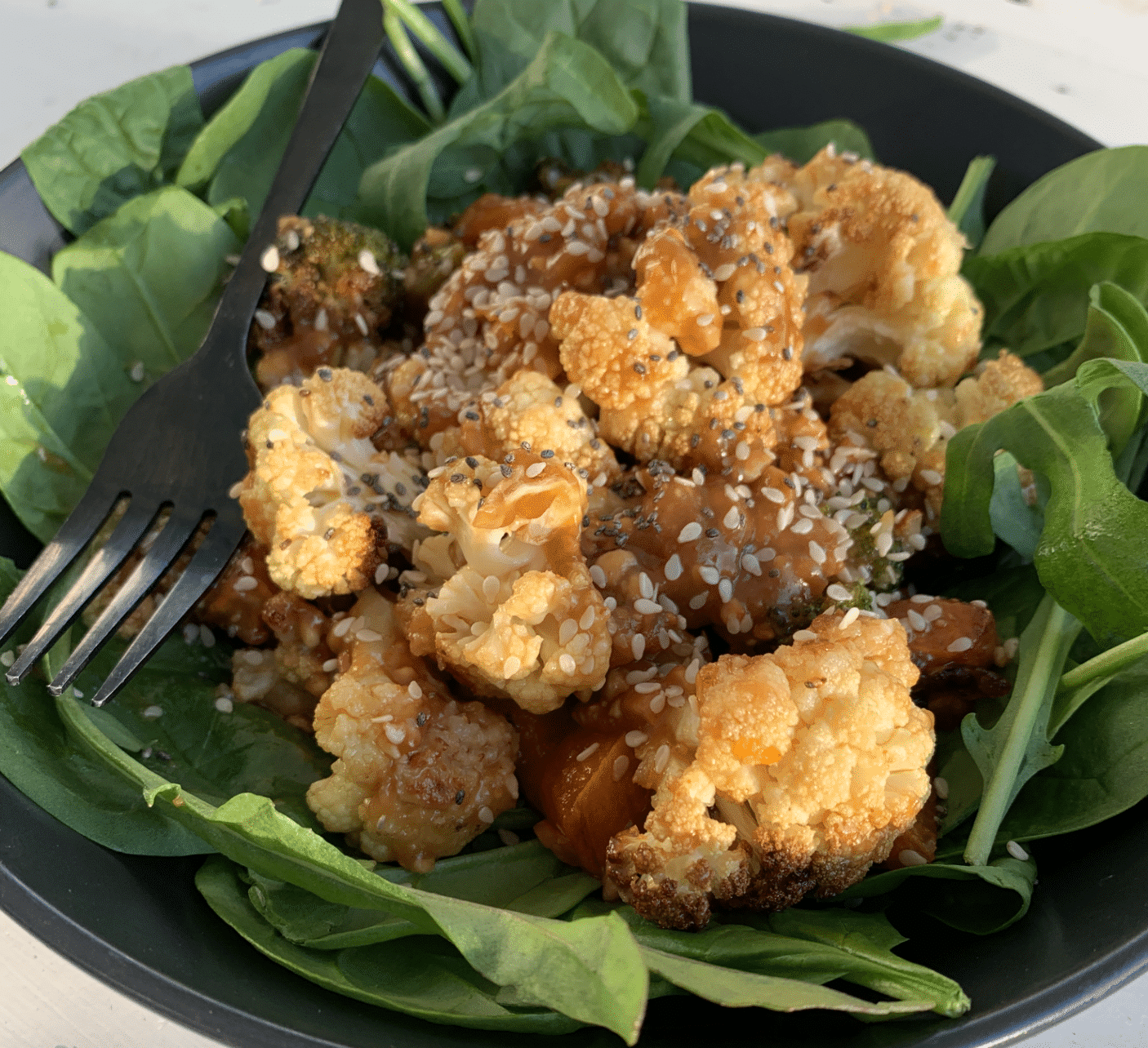 Thai Satay roasted Cauliflower 
b. Thai Satay Roasted Cauliflower and the most begged for vegetable dish. We often eat this as is but it can be an addition to your favourite protein.
Ingredients:
Whole Cauliflower cut and florets detached OR any other roasted veg – sweet potato/ pumpkin/carrot/broccoli.
Garlic Oil
Salt Pepper
Sesame Seeds
Baby Spinach Leaves and Rocket
Method:
Cut vegetables and place on tray lined with baking paper
2.  Pour 2 tablespoon garlic oil and season with salt and pepper & sesame seed.
3.  Roast vegetables in a moderate oven for 30minutes until brown.
B. Secret Satay Sauce 
Ingredients: 
2 tablespoons – Vietnamese Rice paper roll sauce 
2 tablespoons Crunchy Peanut butter 
1 tablespoons Coconut Amino Seasoning 
1 tablespoon Garlic oil
Method:
Place in a jar with lid and shake – store extra sauce in jar to use on other meals.

Remove vegetables from oven and allow to cool

Make the Satay Sauce

Layer in a bowl spinach leaves or your favourite greens

In a large bowl place roasted vegetables and pour and gently stir in satay sauce  coating vegetables

Add sesame seeds for crunch and layer onto spinach leaves
Serve warm.
Health and Happiness,
b.x