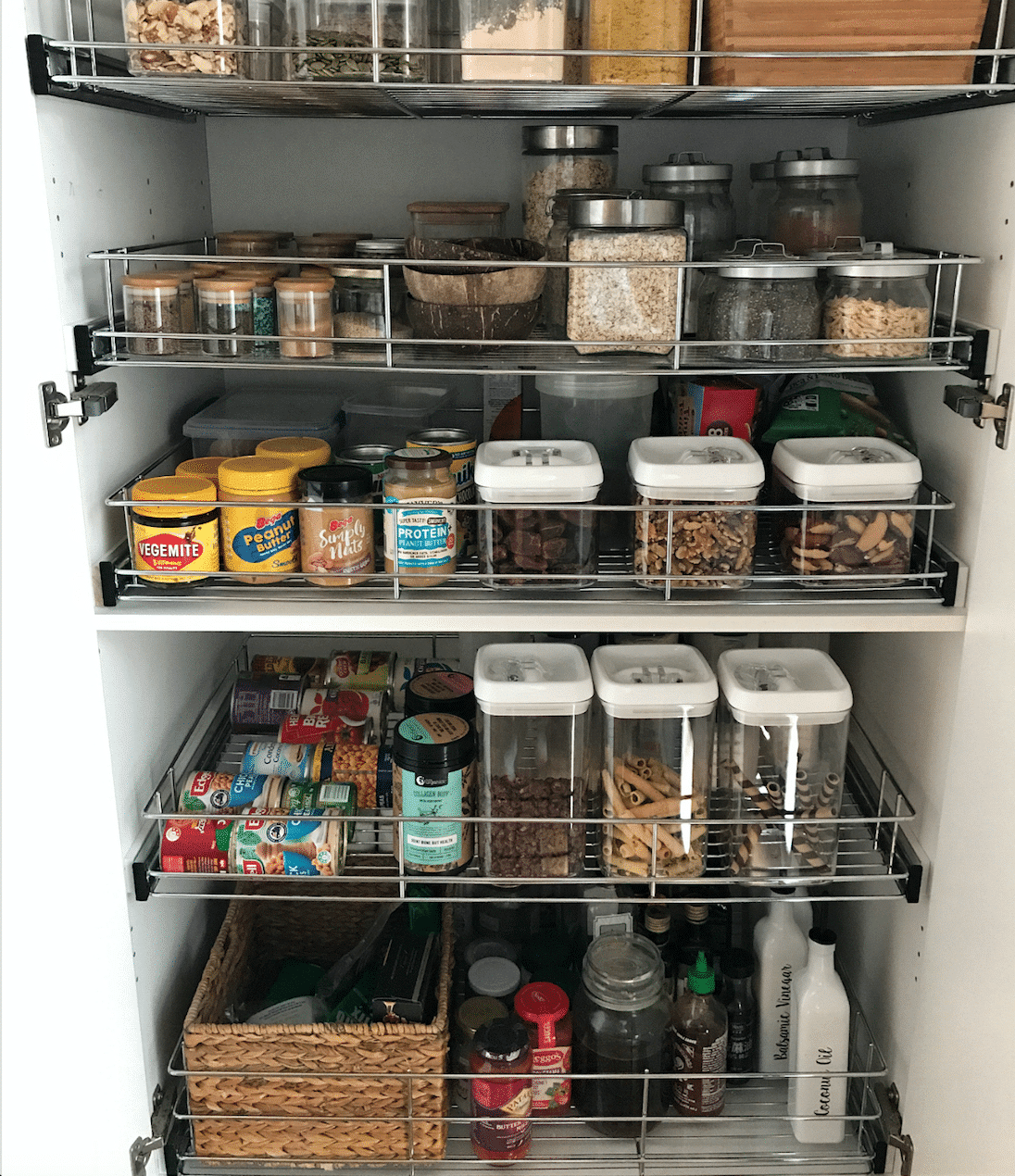 The 10 Health Benefits of a Functional Pantry
I must admit I am possibly OCD (self-diagnosed of course) because my obsession with functionality has spilt into every nook and cranny of my new cleansed life.  As seen in previous blog posts the renovation was budgeted to contain all parts of environmental and simplified living, for my modern family of three.   I used to think that a big walk in pantry for a 'foodie of my kind' was what I required – But I was wrong!  After having the ultimate huge kitchen; the butlers pantry with every mod con -it seems I am happier and even better sorted with less.  The new house has a double door pantry and it is extremely functional with the simplicity I required and wanted. I sort to find the ultimate in pantry set ups, scrolling through Pinterest, lingering in storage shops and developing a deep lust for Ikea style living.
A pantry set up is more important than many realise, as it is the key to wellness, health and nutrition for the entire family.  We open the pantry cupboard more than any other door in the house, actually more often than the fridge for some households.  Research shows that the pantry door is opened and stared upon up to 18 times daily (per person) and if you are at home more often it is up to 46 times.  These actions trigger our brains to sort, seeks, fuel and crave everything in our eye-sight. When we see a functional pattern of food in containers rather than in packages it positively impacts our brain to seek a creative crave – which is a big bonus for our bodies. These are the benefits that I have found from my functional pantry that I never knew existed!
---
10 Health Benefits to a Functional Pantry:
Time Saving as everything is accessible and easy to prepare from.
Saves money so you don't have ten of the same things- like I seem to think I always need more spaghetti and I bet you have 4 too many of one product?
Reduces stress around cooking
Fueling your body with foods higher nutritional value as they are visible
Less packaging means less waste
Buy in bulk and decanter saving money
Accessibility to all products for all family members.
Kids food shelves at their eye height creating family ease for kids to grab a snack without the need of Mum/Dad to get it.
Encourages at home eating and cooking
It is hygienic, neat and easier to keep clean (no more weevils)
How to Perfect Pantry:
An enormous thank you to Tanya from Tansel Storage; who designed my ultimate pantry.  This kitchen pantry required a revamp, which added loads more storage and simple organisation. Tanya planned and rearranged everything from shelves, heights, doors and sort containers galore. Here is what she did…
BEFORE
In a nutshell…
Her shelves were widely spaced and had wasted space.
The shelves were cut short, so again, more wasted space.
The pantry was wide so many of the shelves were bowing.
Hard to access spaces.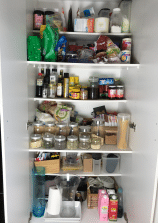 AFTER – What We Achieved
We created loads more storage by replacing shelves with Tansel stainless steel wire drawers.
Organisation of her spices & condiments using spice jars and storage cannisters (thanks to Little Label Co & Howards Storage)
Easy access! No more digging.
How We Did It!
Some basic measurements and photos of the pantry were provided.
Using our extensive range of sizes and components, we found a solution that maximised her space.
We called on our Gold Coast Hire-A-Hubby installer Greg to fit the Tansel stainless steel drawers. This gave Tanya and I time to decant all the spices and rid any excess open packets and store items into air-tight cannisters.
Tanya organised the pantry to maximise storage and make every visible & organise. See Tanya's tips below.
Tanya's Storage Tips
All items I rarely used were placed on the top shelf. This free up space for every-day-items to be stored within easy reach areas of the pantry.
To maximise storage we stored all her tall items together. Tall items required more height between the drawers, so storing them in 1-2 drawer allowed us to space all there drawers more closely and therefore increase the useable storage in my pantry,
Wire baskets are great for cans because they nest nicely and don't roll around as you're pulling the drawer in & out.
Removing shelves and adding stainless steel drawers added about 20% more storage.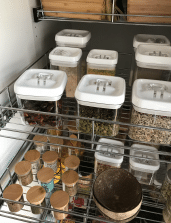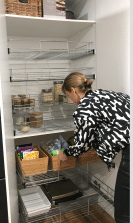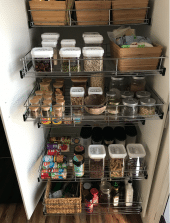 With Thanks & Appreciation
Many thanks to the amazing contributions of:
Greg, Hire-A-Hubby Gold Coast– installation of 6 Tansel Stainless Steel Wire Drawers. It was his first install for us & he did an amazing job (& had a few laughs watching Belinda & Tanya "in action" and sharing "off the record" stories).
Little Label Co– provided the air-tight glass spice jars and Oil/Vinegar bottles, which brought style & functionality to our pantry makeover.
Howards Storage World– for supplying the much-needed storage containers, which helped to declutter and organise the space. Reducing packets and pantry clutter makes the space functional and user friendly.
This year change your pantry and family wellness for the better with a pantry makeover. For more information on Tansel – check out the website and socials.  The video is also available of BEFORE and AFTER at TanselStorage and also on my instagram in highlights.
Health and Happiness,
b.x