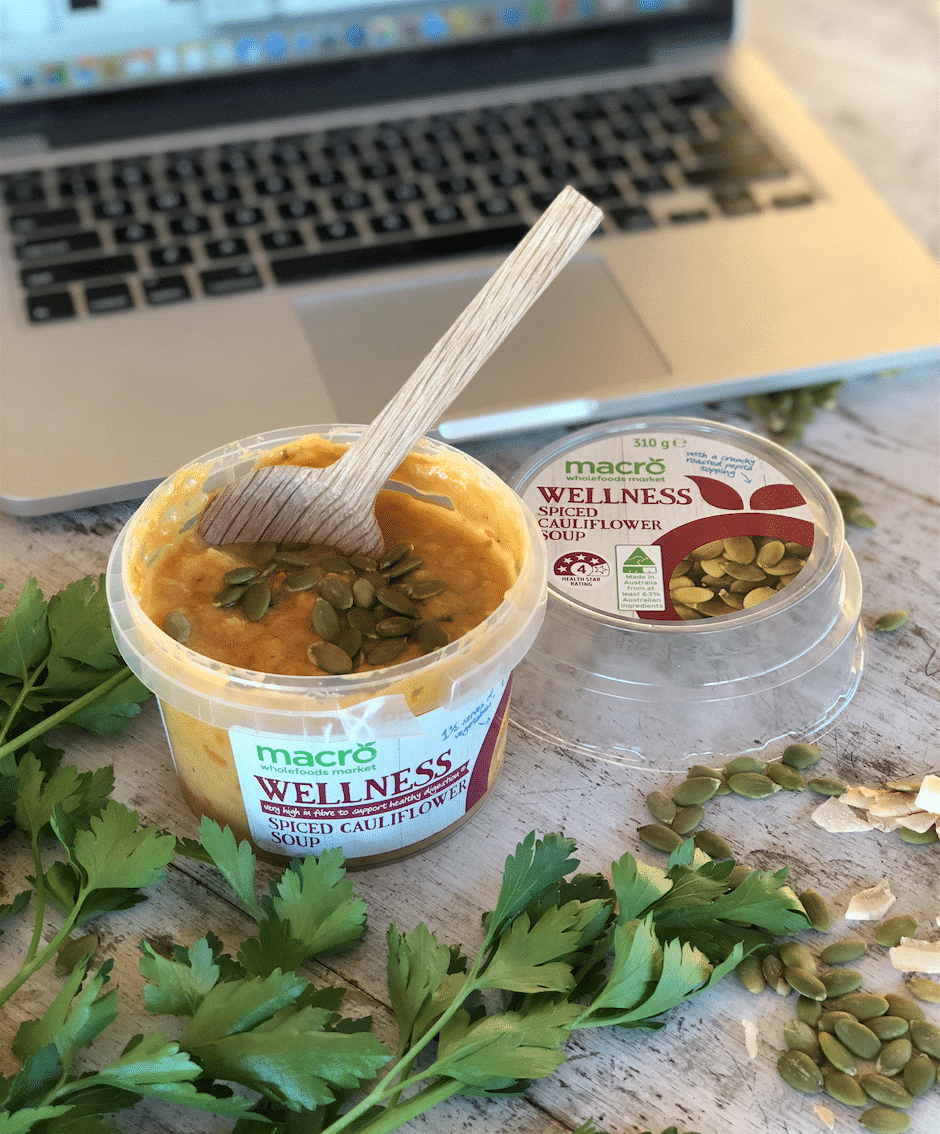 b.Best Work Lunches
The struggle is real when making the lunchboxes for the kids, but even more so thinking about our work lunch.  The next challenge is actually, wanting to eat it! This task is particularly hard when others are heating up the most delicious smelling leftovers or even ordering takeaway from the cool clean café from up the road.
Is it time to get back on track?  Here is my list of 5 winter work lunches that I eat weekly. They are easy, fast and delicious for work and for the 'on the run' Mum.
Best Winter Work Lunches
Macro Soup – these delicious soups contain a range of nutritious ingredients, making them a great option for lunch. Containing at least one serveof vegetablesand flavours that you will entice daily and you will wantto try them all. The package is easy to travel and heat with added chickpeas or seeds to compliment every soup.   These soups contain a range of nutritious ingredients making them a great option for lunch. Macro soups are only available at your local Woolies for $4 so they are a perfect affordable winter lunch option.My favourite is the Wellness version with cauliflower or Repair with carrot.
Picnic Slice an easy leftover bake up for dinner or weekend preparation -recipe link
Chicken Wrap on low carb, whole grain or gluten free bread with greens and rainbow salad. Try this toasted to make it more enticing at work.
Warm roast vegetables salad and easy lemon dressing. The vegetables are roasted the night before whilst doing dinner and then these leftovers cold or warm with added baby spinach and lemon dressing.  Warm the roast vegetables then add spinach upon eating. Try adding the b.beetroot dip too. Goodness my mouth is watering… BBQ chicken broken up into pieces with ½ cup of brown rice or quinoa (pre cooked package) and heaped handful of baby spinach and uncooked broccoli all packed into secure reheat container.  This one is a once a week rotation on my lunchbox list. It's fast and I throw this into the microwave at work and eat on the run often. Add a quick dollop of teriyaki sauce and its Japanese on a healthy budget.
Try these this month of July as we reboot our bodies back into summer.
For a new Winter workout – don't forget to tune into Instagram or IGTV.
You can view more macro products and recipes here.
Health and Happiness always,
b.x